Goya Foods es la empresa de alimentos hispana mas grande en Estados Unidos. La empresa con sede en Nueva Jersey puede ser icónica por su despensa del maíz en lata, frijoles (bajos en sodio) y chipotle. Póngase al día con una de las compañías en crecimiento más rápido de la nación y pruebe estas ideas de la parrilla para este verano.
1. Alas de pollo a la parrilla con salsa Chipotle
Ahumadas y picantes
2 libras. alitas de pollo
1 botella (24,5 oz.) De Mojo Chipotle GOYA®
palitos de apio, como acompañante
Salsa ranch
2. Del mar a la parrilla
Tacos de pescado a la plancha con salsa de melocotón
Para la salsa:
1 lata (15,25 oz.) de GOYA® Mitades de melocotón, escurridos y picados (aproximadamente 1 taza)
½ pimiento rojo, finamente picado (alrededor de ½ taza)
¼ de cebolla roja, finamente picado (aproximadamente ¼ de taza)
1 lata de GOYA® pimiento jalapeño entera, sin semillas y cortado en trozos pequeños
1 cucharada. cilantro fresco finamente picado
2 cucharaditas. Jugo de Limón GOYA®
Adobo GOYA® con pimienta, al gusto
Para el pescado:
4 filetes de tilapia, sobre (1 lb), u otro pescado blanco de carne firme, como el fletán o lubina
1 cucharada. chile en polvo
1 ¼ cucharadita. Adobo GOYA®con Pimienta
1 paquete de Sazón GOYA® con Culantro y Achiote
1 paquete (10 oz.) de 6 "GOYA tortillas de maíz, calentado"
Sliders Latina con jalapeño Ranch
Para el condimento:
1 taza entera  de jalapeños GOYA®, picados
¼ de taza de cebolla amarilla finamente picada
½ taza de cilantro fresco picado
1 cucharadita. Jugo de Limón GOYA®
1 cucharadita. Aceite de Oliva Extra Virgen GOYA®
Para los deslizadores:
¾ libras de carne molida
¾ libra de carne molida de cerdo.
1 paquete. (A 3.5 oz.) De Chorizo ​​GOYA®, finamente picado
¼ taza de cilantro fresco, picado
Aceite Vegetal GOYA®, para engrasar rejillas de la parrilla
Adobo con Pimienta GOYA®, al gusto
10 rebanadas de queso pepper jack
10 panes/sandwhich deslizantes
Para garantizar estas ideas de verano inspirado en un éxito, echa un vistazo a las indicaciones para llegar a estas recetas y mucho más en la pagine web de Goya. ¡que disfrute!
Summer Grilling: Goya Style
Goya Foods is America's largest Hispanic-owned food company. The New Jersey-based company may be iconic in your pantry for canned corn, low sodium beans and chipotle peppers. Catch up with one of the fastest growing companies in the nation by trying out these summer grilling ideas.
1. Smoky & Spicy
Grilled Chipotle Chicken Wings
2 lbs. chicken wings
1 bottle (24.5 oz.) GOYA® Mojo Chipotle
Celery sticks, for serving
Ranch dressing, for serving
2. From Sea To Backyard
Grilled Fish Tacos with Peach Salsa
For the Salsa:
1 can (15.25 oz.) GOYA® Peach Halves, drained and chopped (about 1 cup)
½ red bell pepper, finely chopped (about ½ cup)
¼ red onion, finely chopped (about ¼ cup)
1 GOYA® Whole Jalapeno Pepper, seeded and finely chopped
1 tbsp. finely chopped fresh cilantro
2 tsp. GOYA® Lemon Juice
GOYA® Adobo All-Purpose Seasoning with Pepper, to taste
For the fish:
4 tilapia fillets, about (1 lb), or other firm fleshed white fish, like halibut or sea bass
1 tbsp. chili powder
1¼ tsp. GOYA® Adobo All-Purpose Seasoning with Pepper
1 packet Sazón GOYA® with Coriander and Annatto
1 packet (10 oz.) 6" GOYA® Corn Tortillas, warmed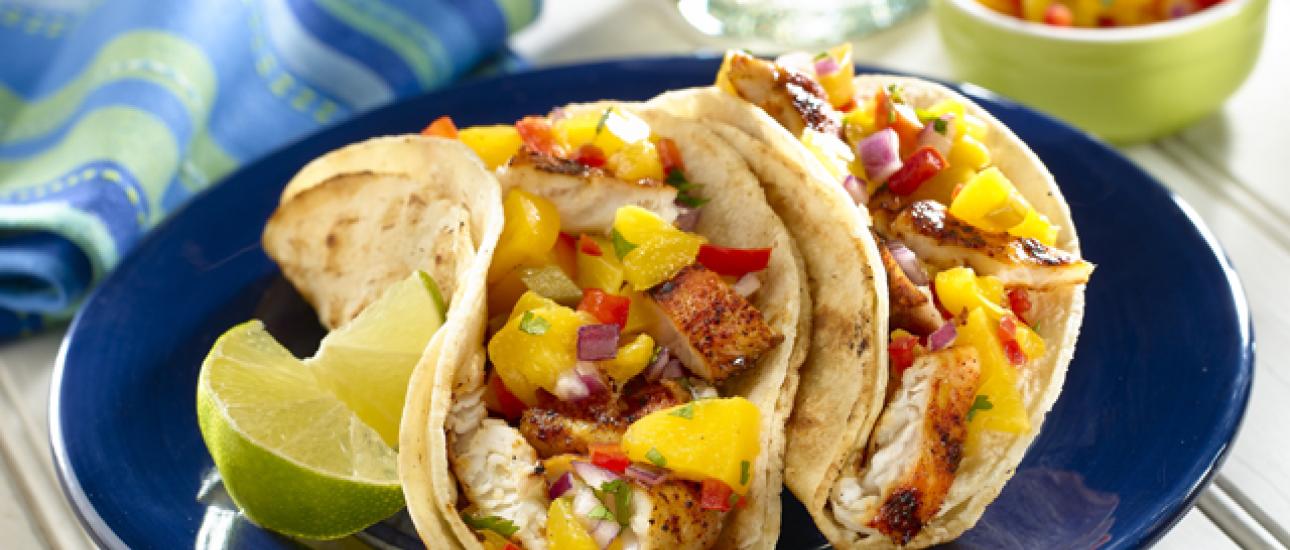 3. Latin Spice
Latin Sliders with Jalapeño Ranch
For the Relish:
1 cup GOYA® Whole Jalapeños, chopped
¼ cup finely chopped yellow onion
½ cup chopped fresh cilantro
1 tsp. GOYA® Lemon Juice
1 tsp. GOYA® Extra Virgin Olive Oil
For the Sliders:
¾ lb. ground beef
¾ lb. ground pork
1 pkg. (3.5 oz.) GOYA® Chorizo, finely chopped
¼ cup fresh cilantro, chopped
GOYA® Vegetable Oil, for greasing grill grates
GOYA® Adobo All-Purpose Seasoning with Pepper, to taste
10 slices pepper-jack cheese
10 slider buns
To guarantee these summer inspired ideas a hit, check out the directions to these recipes and more on Goya's site. Happy eating!