The 1st edition of the highly anticipated Bayfront Jazz Festival will take place on April 30th and st May 1 , 2021, featuring legends of Jazz and Cuban music in an open-air iconic venue.
Hosted by Melrose Media at the FPL Solar Amphitheater at Bayfront Park in Miami, the Bayfront Jazz Festival th
Will begin Friday, April 30 ,which also notably doubles as International Jazz Day (declared by UNESCO).
This year's unique line-up will feature names by the likes of: Roy Ayers, Dee Dee Bridgewater, Chucho Valdés, Gonzalo Rubalcaba & Aymée Nuviola, and Mark Guiliana's Beat Music, who will all be participating at the festival throughout 2 days of live jazz, afro-Cuban, and electronic music.
The FPL Solar Amphitheater is situated in the middle of Bayfront Park on the Oceanfront. Bayfront Park has a 500-panel solar installation, that includes solar trees, allowing for the generation of approximately 250 kilowatts of emission-free energy – more power than that which is used during the Amphitheater's famed concert season.
To maintain social distancing and safely abide by all Covid-19 guidelines, the festival will operate at limited capacity, hosting 1,500 guests instead of the normal capacity limit of 10,000.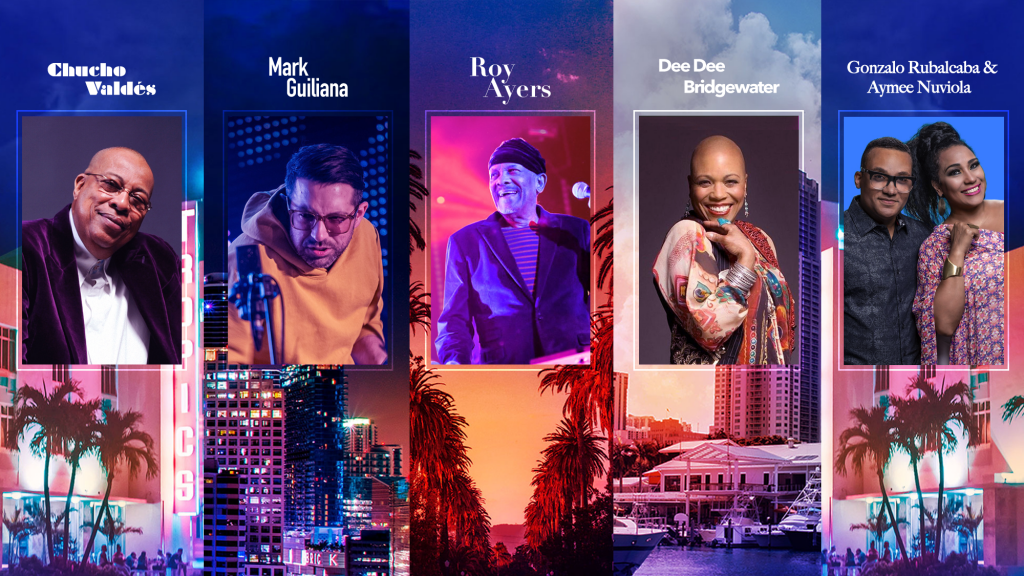 Physical tickets can be purchased via Ticketmaster. An internet ticketed livestream video will also be offered through EluvioLIVE, giving fans from around the world the chance to watch the festivals talented musicians play in front of a real audience, which has not been possible for over a year! 
A portion of all ticket sales will be donated to American Hospitals, fighting Covid on the forefront.
"Artists and audiences crave for live music in an outdoor venue, and we had to fight to make that event happen. We took engagements with the venue and the City to protect our audience with masks, gels and social distancing," said Manuel Molina, Managing director of Melrose Media. Co-producer Rozenberg added, "We wanted to bring back live jazz in the heart of the Miamians and feed their souls with iconic musicians vibes. There will only be 1,500 happy people in the venue, but everybody likes the sunshine, so everybody will be able to follow the hybrid event on a livestream." Molina adds, "We are so glad to put back on the map a new Jazz Festival, especially after the cultural chaotic Covid, and bring back joy with live music."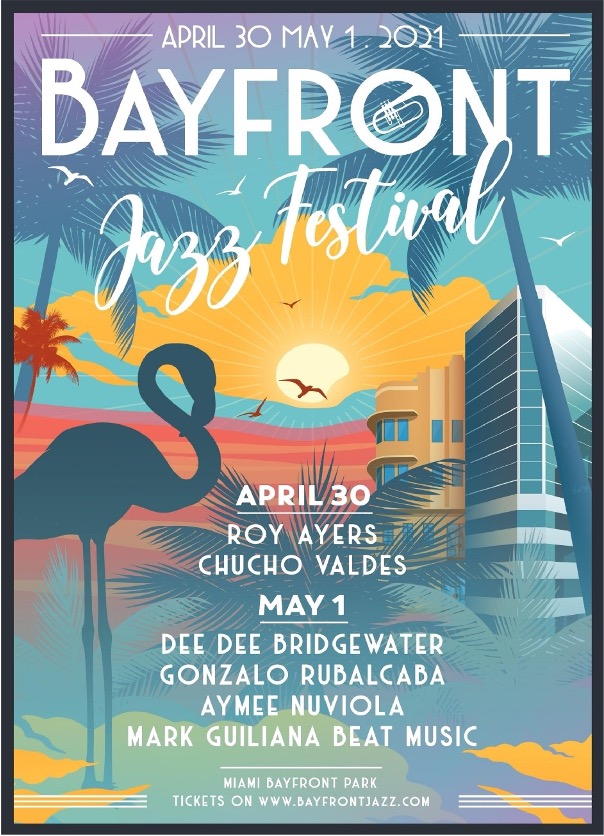 FRIDAY 30 APRIL 2021- MAIN STAGE
9:30 PM: CHUCHO VALDES QUARTET
CHUCHO VALDÉS—PIANO
JOSE ARMANDO GOLA—BASS DAFNIS PRIETO—DRUMS ROBERTO VIZCAINO JR.—PERCUSSION
7:30 PM: ROY AYERS QUINTET
ROY AYERS—VIBES & VOCALS MARK ADAMS—KEYBOARD TREVOR ALLEN—BASS GUITAR CHRISTOPHER DECARMINE—DRUMS DASHILL SMITH—HORN
SATURDAY 1 MAY 2021 – MAIN STAGE
9:30 PM: DEE DEE BRIDGEWATER AND THE MEMPHIS SOULPHONY
DEE DEE BRIDGEWATER—LEAD VOCALS
SHONTELLE NORMAN-BEATTY, SKYLER JORDAN—BACKING VOCALS DELL SMITH—ORGAN/KEYBOARD
BARRY CAMPBELL—ELECTRIC BASS
CARLOS SARGENT—DRUMS
CHARLETON JOHNSON— GUITAR
CURTIS PULLIAM—TRUMPET
BRYANT LOCKHART—TENOR SAX
7 PM: GONZALO RUBALCABA & AYMEE NUVIOLA
GONZALO RUBALCABA—PIANO, SYNTHESIZERS AYMÉE NUVIOLA—LEAD VOCALS
CRISTOBAL "EL PROFE" VERDECIA—BASS
HILARIO BELL—DRUMS
NEIGER "MAJITO" AGUILERA—PERCUSSION YUNIOR ARRONTE—SAXOPHONE
LOURDES NUVIOLA—LEAD VOCALS AND BACKING VOCALS ALFREDO LUGO—BACKING VOCALS
4:30 PM: MARK GUILIANA BEAT MUSIC
MARK GUILIANA—DRUMS AND ELECTRONICS NICK SEMRAD—SYNTHESIZERS
CHRIS MORRISSEY—ELECTRIC BASS
More information on Bayfront Jazz Festival can be found at www.bayfrontjazz.com