Con el rápido ascenso de las temperaturas en la Florida, hay una gran necesidad para la protección solar. La crema y loción Algotherm Algosun antienvejecimiento son dos nuevos filtros solares que no sólo protegen del sol, sino que también son libres de tóxicos y no perjudican el medio ambiente marino y coral.
Algotherm es una empresa francesa que por 54 años se ha especializado en la producción de cosméticos que no perjudica el medio ambiente. Ellos formularon estos filtros solares con protección de amplio espectro, que bloquea los rayos UVA y UVB. La Crema y Loción Algotherm Algosun también son protectores solares minerales que utilizan dióxido de titanio y óxido de zinc para bloquear estos rayos UV.
Hay dos fórmulas para los protectores solares: la Crema Solar SPF50 + y la Loción Solar SPF30. El SPF50 + es una fórmula en crema mas gruesa que la SPF30. Sin embargo, estas dos fórmulas no secan la piel y mas bien la dejan con un aspecto grasoso o brillante.
El SPF50 + y el SPF30 son perfectos para la piel seca y para la piel sensible. Para la piel grasa estos productos no son la mejor opción, ya que agrega un aspecto aun mas aceitoso a la piel.
No sólo son estos productos resistentes al agua e hipo alergénicos, sino que también son antienvejecimiento. Los bloqueadores solares Algotherm Algosun previenen la aparición de arrugas y preservan la juventud de la piel protegiéndola contra el daño solar.
La crema y loción Algotherm Algosun antienvejecimiento se puede encontrar por Amazon entre $80 – $100.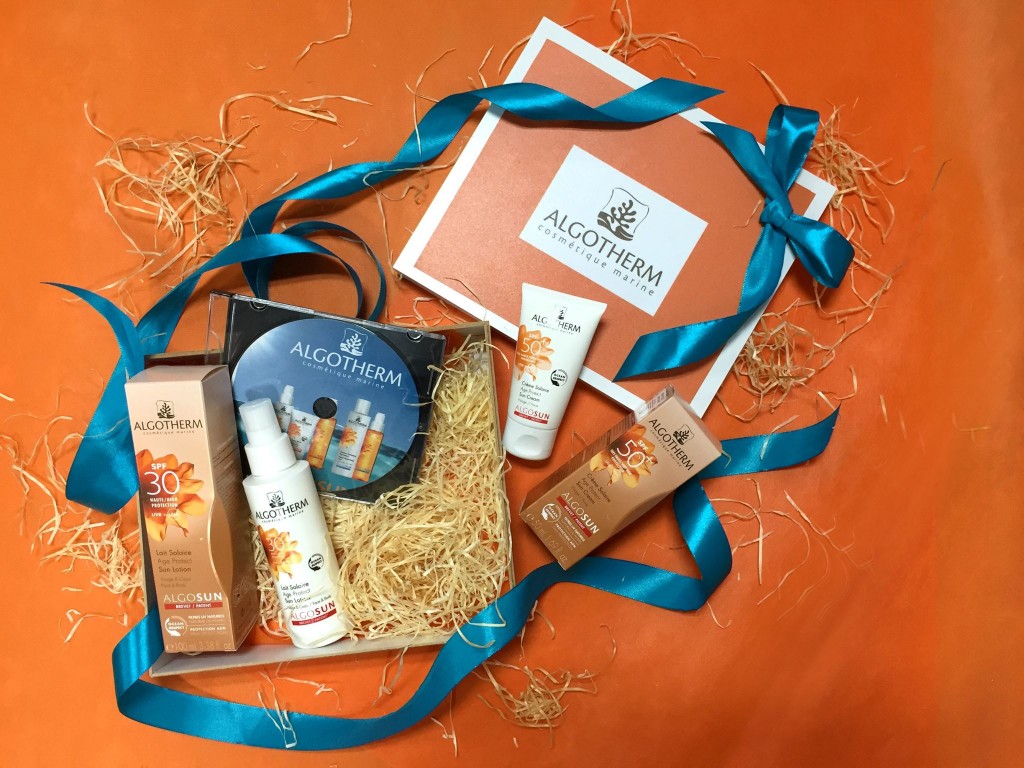 ALGOTHERM ALGOSUN AGE PROTECT SUN CREAM AND SUN LOTION
With the rapid rising of Florida's hot climate, there's a significant need for the right sun protection. Algotherm Algosun Age Protect Sun Cream and Sun Lotion are two new sunscreens that not only protect from the sun, but are also non-toxic and non-harmful to the marine and coral environment.
Algotherm is a French company that has been specializing in ocean-friendly cosmetics for 54 years. They formulated these sunscreens with broad-spectrum sun protection, which blocks UVA and UVB rays. The Algosun Sun Cream and Sun Lotion are also mineral sunscreens that use titanium dioxide and zinc oxide to block these UV rays.
There are two formulas for the sunscreens: the Algotherm Algosun Age Protect Sun Cream SPF50+ and the Algotherm Algosun Age Protect Sun Lotion SPF30. The SPF50+ is a thicker cream formula than the SPF30. However, both of these formulas do not dry out which leaves the skin with a greasy or shiny appearance.
The SPF50+ and the SPF30 are perfect for dry skin as well as sensitive skin. For oily skin this might not be the best option because it would just enhance the look of the already oily skin.
Not only are these products water-resistant and hypoallergenic, but they also offer age protection. The Algotherm Algosun sunscreens prevent the appearance of photo aging signs and preserves the skin's youth by protecting against sun damage.
The Algotherm Algosun Age Protect Sun Cream and Sun Lotion can be found on Amazon for purchase, prices range from $80 – $100.